Haiyi Enterprise's 2022 Spring Festival Holiday Announcement
---
In the year of the tiger, I will send you a big ingot, and the wealth will flow to your home;
The Year of the Tiger brings you a lot of blessings and good luck for the whole family;
In the year of the tiger, I will send you a red padded jacket, which will warm your body and your heart;
The Year of the Tiger is blessed with many blessings, and everything goes well in a year.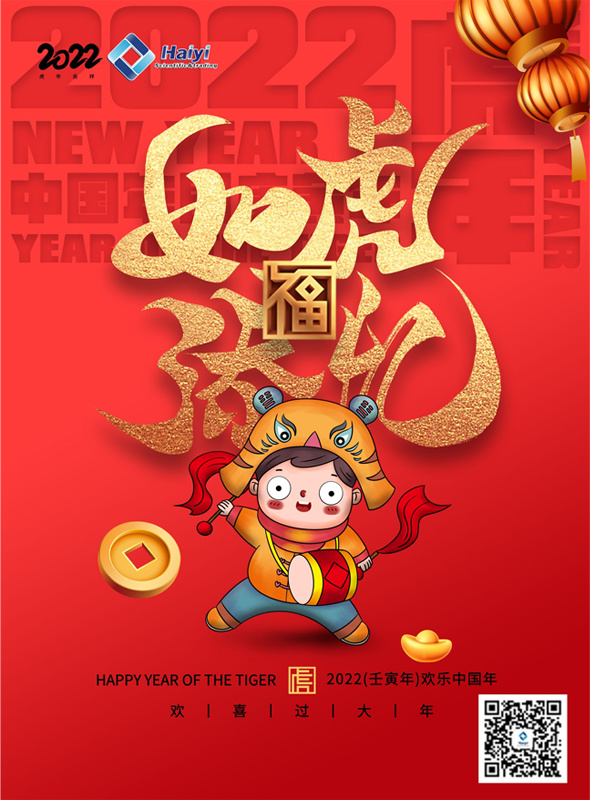 Dear customers:
Hello! When the Spring Festival in 2022 is approaching, according to the "Announcement of the General Office of the State Council for the 2022 Spring Festival Holiday Arrangement", combined with the company's actual situation and work arrangements, the Spring Festival holiday arrangements are as follows:
Spring Festival holiday: January 30, 2022 (Sunday) 12:00,
January 31st (Monday) to February 6th (Sunday), a total of 7.5 days.
On the occasion of the Spring Festival holiday in 2022, I would like to thank everyone for their continued support and love. I would like to extend my festive greetings to you. I wish you a happy New Year, a prosperous business and a happy family.
海逸企业