Product丨Haiyi's new product in new energy polyurethane battery adhesive is here
---
Recommendation of two raw materials in new energy battery glue
Among the current downstream applications of adhesives, applications related to new energy vehicles are currently the most active market with the best development prospects. In particular, adhesives used in thermal conductive modules in new energy vehicle batteries are considered to be the core product of new energy vehicle adhesives. Polyurethane type glue is widely used, both for potting and structural bonding applications, and is basically a two-component system.
1. In response to the new anti-sag requirements in polyurethane battery adhesives, Evonik has launched a new fumed silica AEROSIL® R 208
Because polyurethane battery glue contains a large amount of thermally conductive and flame-retardant fillers, there will be higher demand for anti-sag and anti-settlement. In response to the above situation, Evonik provides excellent anti-sag, anti-settlement and good stability. AEROSIL® R 208, an ultra-highly hydrophobic air silicone. Compared with the previous classic product AEROSIL® R 202, both have the same treatment agent, but 208 has a higher specific surface area and treatment degree. The specific technical indicators are compared as follows:

The differences reflected in specific applications are as follows: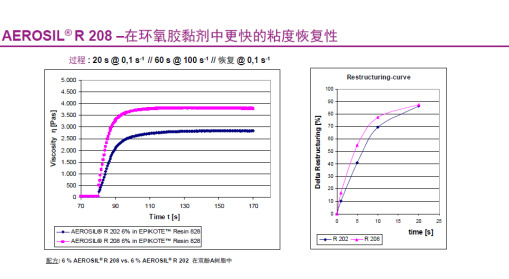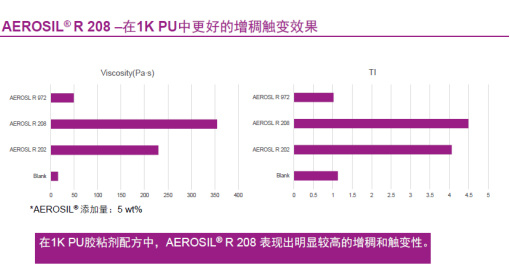 In addition, AEROSIL series gas silicone can significantly improve the performance in adhesives and sealants, specifically as follows: viscosity control, thixotropy, anti-sag, anti-settling, sprayability, reinforcement, bonding strength, storage stability, and transparency. According to different resin systems and the needs of different downstream customers, Evonik's AEROSIL series of pneumatic silicones can provide personalized solutions. If you need to know more about the use of Evonik pneumatic silicone in adhesives, please follow our public account, and there will be more product introductions in the future.
2. For these two-component polyurethane glue, Jiasheng has launched a special color paste PUC4001-4004

Product introduction: This series of color pastes is a mixture of high-grade pigments dispersed in macromolecular inert esters. Environmentally friendly, it meets requirements such as low odor and low VOC emissions, and complies with EU RoHS regulations. Suitable for polyurethane two-component room temperature curing adhesive. It has excellent temperature and sun resistance.
Product performance features:
1. It can maintain good shear fluidity, is easy to add, and will not settle;
2. Higher fineness, good compatibility, better dispersion and more uniform color;
3. This product has high concentration and can achieve better coloring performance at low dosage;
4. The water content is low and will not affect the operating time and characteristics of the polyurethane glue itself.
If you are interested in the above products, you can consult the local sales staff to obtain product information and provide samples.